Just like that, the 2020 Award season has come to a close with the Oscars. While the awards forgo having a host for the second time, it's still plenty funny. Steve Martin and Chris Rock got the audience off on a good note with a generous sprinkling of jokes, while Janelle Monae got everyone grooving with her opening number.
The Oscars have been criticised for its lack of diversity this year, and made up for it by having presenters and performers poke fun at it. Steve and Chris's opening exchange mentioned it, and Janelle played tribute to the women who didn't get nominated in her performance.
Of course, we know Parasite won big and made history, for being the first foreign-language film to win the Bes Picture, scoring a win not just for South Korea, but for Asia, in general. After his outstanding The Host (2006), the edgy and imaginative Snowpiercer (2013) and the somewhat eccentric Okja (2017), director Bong Joon Ho finally made it to the mainstream with his latest movie.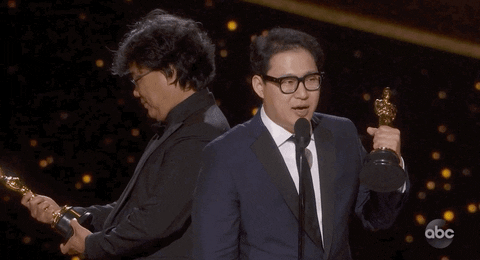 After receiving his very first Academy award for Best original screenplay, Bong couldn't help but giggle adorably at his golden statuette, staring at Oscar's naked body in great detail. Who's to know that he would go on to receive three more Oscars?
From Brad Pitt's victory over veterans like Al Pacino and Joe Pesci, Renée Zellweger's reward for bringing Judy Garland to life, to Joaquin Phoenix's deserved win as a fragile man broken by society and circumstances, there are plenty of special moments at the 2020 Oscars. But enough about that. Here's a look at the other best photo moments from the 2020 Oscars.
Do you remember Julia Butters? Well, you should, she is the breakout star of Once a Upon a Time in Hollywood. This picture may look normal to you, the sweet young actress posing for the red carpet. But look closer… she has a sandwich hanging out of her purse! The young actress was afraid she'd get hungry and packed a turkey sandwich!
Natalie Portman looks as regal as can be in her Dior gown and cape at the Red Carpet. As a strong advocate for women, she wasn't going to let this year's lack of female nominees slide. Her Dior cape has a special meaning, it honours the names of the female filmmakers snubbed in this year's Oscars, such as Greta Gerwig, Lulu Wang, Alma Har'el. It was also embroidered with an Arabic poem that translates as "We dared to dream and we will not regret dignity."
It's a Black Widow reunion! Florence Pugh and Scarlett Johansson were both nominated in the same category- Best Supporting Actress, although Johansson was also nominated for Best Actress. The two share a joyous moment on the red carpet, as both were co-stars of the upcoming Black Widow movie. Yes, female stars do not just engage in catfights, they celebrate each other too.
Strong women unite! Clearly, the Academy understands the fury of women for not being nominated and made up for it by inviting strong women to the show. And there's no stronger trio than these three- the butt-kicking Ripley (Sigourney Weaver), Wonder Woman (Gal Gadot) and Captain Marvel (Brie Larson). The three trio introduced Eimear Noone, the first woman conductor at the Oscars, They also declared, "All females are superheroes!" Hear, hear!
Billy Porter might have just won the best-dressed gown at the Oscars, and Laura Dern is clearly in awe. He was hosting the red carpet segment and without a doubt, puts the rest of the gowns to shame.
Maya Rudolph and Kristen Wiig were the highlight of the night, making us wish that they were hosting the Oscars. While they were singing to introduce the Best Costume Design category, the camera panned to first-time Oscar attendee Billie Ellish, who made this face when she saw herself on the big screen. Priceless.
Aha! Taika Waititi caught in the act by Brie Larson for putting his new and shiny Oscar underneath the seat!
Timothée Chalamet tried to sneak up to Margot Robbie for a photobomb at the red carpet, only to be caught by her, who turned around and gleefully take this picture with him instead.
Have you seen A-listers more enthusiastic before? Neither have we. These Hollywood greats are working together to bring the lights back up during the Parasite Best Picture acceptance speech. The lights have dimmed and the music has started while the Parasite crew was still giving thanks. Tom Hanks, Charlize Theron and Margot Robbie were having none of it, and raised enough ruckus for the lights to come back on and the music to stop. It worked!
Idina Menzel looking as confused as many of us when Eminem took the stage to perform Lose Yourself, the 2003 Best Original song winner.
Martin Scorsese on the other hand, just looked really uncomfortable and perhaps a tad sleepy during Eminem's performance.
Did that just happen? James Corden and Rebel Wilson took the stage, dressed as their characters from their flop of a movie- Cats, ironically, presenting the award for Best Visual Effects. They made jokes about the movie, which drew laughs from the audience. After the skit, Wilson was heard telling Corden, "Now I've got to get back in regular makeup!"
What a sweet moment between Renee Zellweger and Bradley Cooper at the Oscars. The two dated for around two years. They got together after they worked on the movie, Case 39, together.