The award season is here again. Kicking it off is the Golden Globe Awards, hosted by Ricky Gervais, who entertained the audiences tremendously with his dry Brit humour. Let's dive right into the night's best moments.
The Ricky Gervais Humour
His opening speech covered a gamut of jokes, mostly poking fun at celebrities. Like their habits of making political stances during their acceptance speeches, their lack of education (comparing them to Greta Thunberg), and their penchant for dating younger partners (looking at you Leonardo DiCaprio). He even made fun of Dame Judi Dench and the latest Cats fiasco of a movie!
Standing Ovation
Within 15 minutes into the show, there was already a standing ovation- for Elton John and Bernie Taupin, who came on stage to introduce Rocketman, who was nominated for three Golden Globes. The pair had their arms around each other and you can really see the camaraderie between the two.
He Won Because of His Eyebrows
Did you notice that Stellan Skarsgård did not have eyebrows? Well, neither did we, until his hilarious speech where he won the Supporting Actor Award for Chernobyl. He thanked the fact that he was given "eyebrows" for the show so that the can emote, because his eyebrows are not naturally bushy like Colin Farrell, which elicited laughs from the audience.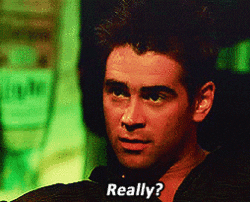 Phoebe Waller-Bridge
Waller-Bridge was flirty and funny in her acceptance speeches for Best Actress in a Musical or Comedy TV series and Best Television series- Comedy. She first commented about her chemistry with Andrew Scott in the show, but acknowledged that Scott has even chemistry with a pebble. She then thanked Obama for putting Fleabag on his list, and added "as some of you may know, he's always been on mine," and asked the audiences to catch the first-ever season of Fleabag to find out why. Oh Phoebe, what a tease!
LGBT For the Win
Kate McKinnon was on stage to introduce Ellen DeGeneres, who won the Carol Burnett Award for her contribution to television, and she made a powerful introduction about her own experiences as part of the LGBTQ community.
Ellen herself made a light but an impactful speech about her life and her work. The crowds erupted in laughter when she thanked her imaginary husband and non-existent kids for her success. But she dialled it down and shared about her inspirations and why she did what she does.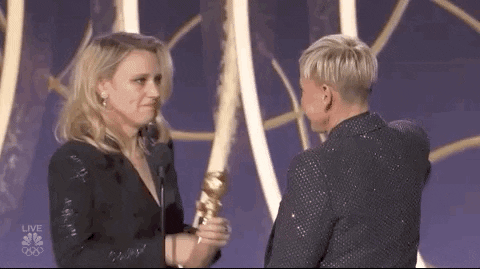 Best Line Award
The award goes to Tim Allen who said, "I'm wearing more makeup than a corpse."
The Best Dynamic Duo
Yes! We get to see Brad Pitt and Leonardo Dicaprio on stage together, introducing their collaboration, Once a Upon a Time In Hollywood, nominated for Best Picture Award. Pitt delivered the ultimate punchline when he said "When I asked Quentin (Tarantino) how he wanted us to play two ageing movie guys who were on their way out, he said, 'Just be yourself.' "
Parasite Won!
The movie won for Best Foreign Language film. The acceptance speech was not anything groundbreaking, but the fact that the movie won is a major step for Asian movies on a global platform, don't you think?
All Rise for Queen Olivia Colman
Anytime Olivia Colman is on stage is a best moment. She opened her acceptance speech for her win for best actress in a television series for The Crown with "I've had money in the bank that this is not happening" and admitted she was "a little bit boozy". She fumbled through her acceptance adorably, sharing that she was not expecting to win at all. She gave a shout-out to Fleabag (which she also stars in) and thanked the audiences profusely.
The Cecille B. DeMille Awards goes to…
Tom Hanks, that's who. In his wholesome and appreciative speech to all those who have helped him get into his role, he even managed to sneak in a joke, referencing to how makeup artists gave Stellan Skarsgård his eyebrows.
The Winning Michelle Williams
Just like her Emmy acceptance speech, Williams' speech for her Best Actress role for Fosse/Verdon is equally powerful, rallying for girls to stand up for themselves and own their right to choose. She received nods from almost all the ladies in the room, especially the presenters, Tiffany Haddish and Salma Hayek.
The Comeback Kid
Brad Pitt Wins! Not only did he snag the Best Supporting Actor win for Once Upon a Time in Hollywood, but he also beat out heavyweights such as Anthony Hopkins (The Two Popes), Joe Pesci (The Irishman), Al Pacino (The Irishman) and Tom Hanks (A Beautiful Day in the Neighbourhood). He has stepped back from the limelight for the past couple of years that it's great to see him back and winning. The camaraderie between him and DiCaprio can be seen during Pitt's acceptance speech, when he sincerely thanked his co-star for his Best Supporting Actor win for Once Upon a Time in Hollywood. He was relaxed and even cracked a few jokes, most notably about not bringing his mom to the award shows because "anyone I stand next to they say I'm dating... And that would just be awkward", drawing laughs from the audience.
Awkwafina- The Asian Pride
Awkwafina makes history as the first Asian American to win a Golden Globe in the Best Motion Picture, Musical or Comedy category. She was visibly nervous during her acceptance speech for her win for The Farewell. Despite her voice trembling, her wits were still with her, she opened the speech with "If I fall on hard times, I can sell this (referencing to her award)". She shared that she had never been to the Golden Globes, so this has been a great experience. She even made a jibe at her dad, who had once frowned upon her line of work with "look dad, I told you I'd get a job".
Joaquin Phoenix's F-Bombs
There is no doubt in everyone's mind that Phoenix will take home the Best Actor in a Motion Picture - Drama, for Joker. The actor beat Christian Bale (Ford v Ferrari), Antonio Banderas (Pain and Glory), Adam Driver (Marriage Story), and Jonathan Pryce (The Two Popes). His speech was filled with F-Bombs, which only the audience could hear, because they were muted for the TV viewers. He rambled in his speech, acknowledging that he "was such a pain in the ass." To Joker director Todd Phillips, he said, "I cannot believe you put up with me." That guy certainly knows his shortcomings and is not afraid to admit it.