It's been a great first quarter in movies. We saw a team of women kicking butt in Annihilation (Natalie Portman, Tessa Thompson), the explosive Black Panther paving the way for more superhero movies, and Steven Spielberg binging us on a roller coaster ride with Ready, Player One, a movie about Virtual Reality with some really familiar sights.
Now, how about kicking back and relaxing to some movies that's less on action but more on emotion? Let us put you in the mood for love this weekend with six movies that will bring a pinkish hue to your face.
EYES WIDE SHUT (1999)
This erotic drama marks a final film of sorts. First, it's the last collaboration between then husband and wife Tom Cruise and Nicole Kidman. Second, it was Stanley Kubrick's last movie before he passed. Kubrick has made a name for himself directing movies that are thought-provoking, filled with dark humour and feature his unique brand of cinematography. And this is no different.
Exploring the depths of sexual relations, the movie sees Cruise's character, who, upon finding out that his wife had entertained the thoughts of an affair, goes on a one-night adventure. Except that it's not one that sees him hitting the club and picking up girls. Instead, he infiltrates a massive masked orgy of an unnamed secret society and gets into a tricky situation.
Why you should watch it: Apart from it being a sexually-charged film, Eyes Wide Shut also showcases Kubrick's visionary way of filming. The movie, filmed in 400 days, holds the Guinness World Record for the longest continuous film shoot.
BOOGIE NIGHTS (1997)
In this film that takes us behind the scenes of the raging pornographic industry in the US during the 70s, we follow a young man named, Dirk Diggler's (Mark Wahlberg) journey from a nightclub dishwasher to a porn superstar. This is Wahlberg's fifth film role and his first leading part. The movie features a stellar supporting cast that includes the brilliant Julianne Moore, Burt Reynolds, William H. Macy and Heather Graham.
Why you should watch it: Boogie Nights is a no-holds-barred eye-opener that doesn't show the glamorous side of the industry, but the seedy backstories of those who toiled tirelessly to make a name for themselves in this fleeting trade.
LITTLE CHILDREN (2006)
In suburban Massachusetts, two adults, both married but not to each other, find themselves in a forbidden relationship. It seems unlikely to begin with, Sarah (Kate Winslet) is a dowdy housewife who put her life on hold to raise her three children while her husband is at work. Brad (Patrick Wilson) is a strapping hunk of a man who has an attractive wife (Jennifer Connelly) and a potential career as a lawyer.
While Brad loves his wife, she is aloof and a workaholic. Meanwhile, Sarah's husband is addicted to online pornography. They meet occasionally at the park near their homes and soon get into some hot and heavy action. Sarah gives Brad the warmth he craves, while Brad offers Sarah the attention she lacks from her husband. With a subplot that involves a paedophile being shunned by the community, Little Children isn't a story of epic proportions, but more like an inside look at the everyday lives of American suburbia, less disturbing than American Beauty.
Why you should watch it: Patrick Wilson. Pre his Insidious days, Wilson is sight for sore eyes. And those raunchy scenes with Kate Winslet is enough to add some flush to your cheeks.
SLEEPING BEAUTY (2011)
This isn't the story about Disney princess Aurora being put under the spell of a jealous evil fairy. Instead, the movie trails the life of university student Lucy (Emily Browning) who simply lacks the lust for life. She's dispassionate and indifferent to everything. To fund her studies, she takes up various menial jobs, until she becomes a lingerie waitress, which leads her to more interesting work that pays well.
The job requires her to be fully sedated while sleeping next to male clients who can do absolutely anything to her, except to have sex. Curiosity finally gets better of the impassive Lucy, and she attempts to find out what exactly goes on when she is asleep.
Why you should watch it: original, surreal and highly disturbing, Sleeping Beauty is no fairy tale and has no happy-ever-afters. It's erotic yet clinical, dark but injected with a sliver of humour, deadpan and sensitive at the same time. A contrasting movie of sorts, you'll love this if you love Browning in her breakout performance in Sucker Punch.
RUBBERS (2014)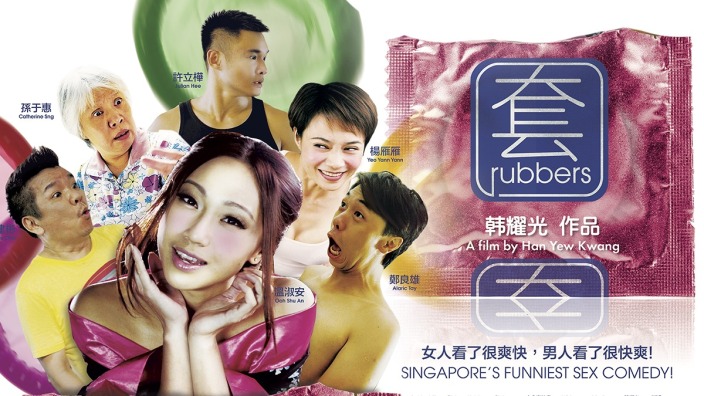 There're plenty of erotically-charged movies out there, but one with condoms as the focus is rare, and the fact that it's made in Singapore is even rarer. This sex comedy tells the story in three chapters, with Singaporeans from different walks of life facing various problems in their sex lives, all related to condoms. The stories are interwoven with one another and told in a cheeky tone.
Why you should watch it: Because in a country which some might describe as stifling, Rubbers is a breath of fresh air. Some of its ideas are pretty far out, and the movie features a cast with good chemistry. Catch two of the cast, Oon Shu An and Alaric Tay in action here: Getting to Know Each Other Between the Legs.
LANG TONG (2014)
Like Rubbers, Lang Tong is a raunchy movie, but many shades darker. Inspired by Takashi Miike's Audition (1999) and Fruit Chan's Dumplings.Three.Extremes (2004), the story tells of two sisters who find themselves in a love triangle with a serial womanizer. Things turn ugly and the sisters' relationship is torn apart, leading to some pretty damaging results. The movie was shot in just two weeks in a flat in Tiong Bahru, and was made on a shoestring budget of $500,000.
Why you should watch it: When the movie was released in the theatres in early 2015, it created a bit of controversy over its graphic nudity scenes. Need we go on?
Get to know more about the mastermind behind the movie: Serving Up a Different Kind of Singapore Film