There are many ways people get to know each other. For Singapore actors Alaric Tay and Oon Shu An, they did it between the legs.
Alaric and Shu An starred in Rubbers, a 2014 comedy directed by Yew Kwang Han. The comedy features three interwoven storylines which revolve around condoms. It also stars other well-known Singapore names like Marcus Chin, Catherine Sng, Yann Yann Yeo, Julian Hee and Chau Min Lee.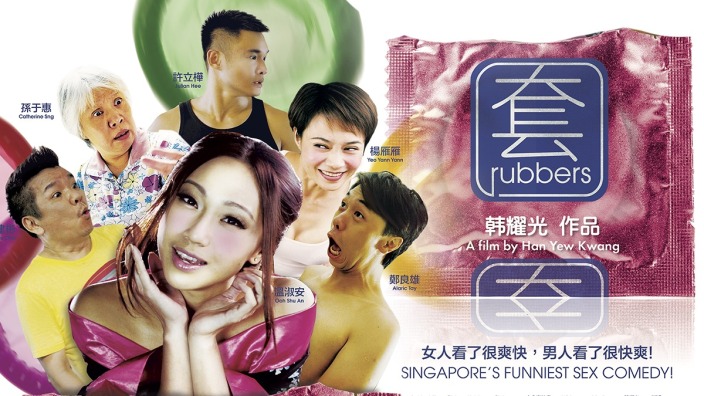 In one of the storylines, an irresponsible playboy (Alaric) who does not like to use condoms gets lucky when a Japanese porn star (Shu An) emerges out of the TV. Unexpected mishaps soon take place, and he ends up having her head stuck at his crotch.
Alaric, 38, remembers shooting the scene: "It was actually very technical process and there was nothing sexy about it. To get the angles right, we had to be positioned in a step-by-step manner."
He reveals the most challenging aspect of starring in the movie is being topless most of the time: "I was self-conscious and kept wondering about how my 'spare tyres' looked on screen!"
Shu An had to place her face at Alaric's crotch area during filming, while biting on to a customised harness so that it would not appear forged. The 31-year-old actress laughs: "It was not comfortable, but you can say we got to know each other intimately!"
Alaric and Shu An first co-starred in Yew Kwang's 2010 TV movie Love in a Cab, and he liked the on-screen and off-screen chemistry between the two actors. Little did they expect that they would reunite on screen in Singapore's first locally-produced R21 sex comedy.
"I think I am quite a nerd and do not have a playboy-ness in me," confesses Alaric. He feels that he was approached for the role because the director was looking for a comedian. After a few rounds of discussions, Alaric realised that the character is not a typical suave playboy, but someone who has a sense of quirkiness.
"I always start on a clean canvas when approaching a new role, and I do my best to characterise it for the audience to appreciate," says Alaric. The actor elaborates how he continually reviews his own performances to ensure that new characters do not feel like previous one he has played before.
Alaric, who directed and co-produced the HBO TV series Sent, feels that acting and directing are complementary: "Whether I am an actor or a director, one role helps me perform the other better, so I know how to accommodate and adjust to achieve the best results."
Shu An, who has her fair share of sexy roles, has an opinion about the media's obsession with sex. She played a Singapore Girl in the stage production of Boeing Boeing, and in another local movie 4Love (2016), she took on the role of a lonely air steward's wife who gets involved in an affair. She states: "If you look around, aren't we surrounded by objects of desire? All the good-looking supermodels we see in the media are selling desire. I don't mind playing these roles because I feel that they turn the stereotype around."
The actress who made her feature film debut in 2006's Becoming Royston also jokes: "I have also played serious characters like a lawyer and an army captain. Why isn't the media interested in them?"
How do Alaric and Shu An feel to have have headlined a R21 movie in their careers?
"I have not told my kid," chuckles Alaric, who is the father of a four-year-old son. He adds: "My parents are too clueless to know that I am in Rubbers, or what the show is about."
Shu An says her parents have not caught the movie although they know about her involvement: "They are not angry, they just said there is no need to watch it."
While the two actors agree that making Rubbers was a fun and enjoyable process, they also hope that despite all the attention on how raunchy the content is, viewers will appreciate the film for its thoughtful messages. This is a trademark of Yew Kwang, who makes slapstick comedies that also contain a lot of heart and truth in them. His previous works include Unarmed Combat (2005), 18 Grams of Love (2007) and When Hainan Meets Teochew (2010).
Alaric has nothing but praises for the director: "I know Yew Kwang as a person, and like him as a filmmaker. I hardly say no to him when he approaches me to be involved in a project, and I think Rubbers is a poignant comedy."
Shu An echoes Alaric's views: "This very sweet movie has something for everyone. Condoms, love and sex – it is a triangulation of sorts!"
Rubbers is now available exclusively on CATCHPLAY ON DEMAND