Before she became the Amazonian Warrior princess wielding the Lasso of Truth and fighting for justice with indestructible bracelets, Gal Gadot was a pageant queen, an army combat trainer and a successful model. There's little this statuesque real-life goddess can't do. Let's take a peek into the gorgeous Israeli's life.
1. European Ancestry
We know that Gadot is Jewish and hails from Israel, but there's more. Although both her parents were born in Israel, their ancestry includes Polish-Jewish, German-Jewish, Czech-Jewish and Austrian-Jewish. Her maternal grandparents were Holocaust survivors.

2. What's a Gadot?
Her surname is a Hebraized version of "Greenstein", and it means "riverbanks".

3. Miss Universe
When she was just 18, Gadot took part in the Miss Israel contest and won. She then went on to compete for the Miss Universe title but didn't place in the final.
4. No damsel in distress in real life
Don't let her model looks fool you. Gadot kicks ass in real life just as she does on screen. After her pageant journey, she enlisted and served for two years in the Israeli Defence Forces. Gadot underwent a three-month boot camp to become a combat trainer. She credits her strong work ethic to her military training. "You give two or three years, and it's not about you. You learn discipline and respect. The things I've been through as a soldier prepared me to deal with career things as well."

5. Accidental Actress
Acting was not on the top of Gadot's mind. After her military service, she enrolled in Law school and finished her first year before being spotted by a casting director who invited her to audition for the part of Bond girl Camille Montes in the film Quantum of Solace. She lost the part to Olga Kurylenko.

6. Fast & Furious
Gadot made her acting debut in the fourth instalment of the Fast & Furious Franchise, as Giselle Yashar. Although she didn't get the Bond Girl part, the casting director was impressed with her and hired her for the role of Giselle. She beat six other actresses to it.

Because of her military background, the lithe Gadot did all her stunts in the Fast & Furious movies.

7. Cars are too conventional
Don't expect Gadot to be driving around in luxury cars. She is a motorcycle enthusiast and owns a black 2006 Ducati Monster-S2R, a sporty ride that packs some serious power.

8. What it takes to be Wonder Woman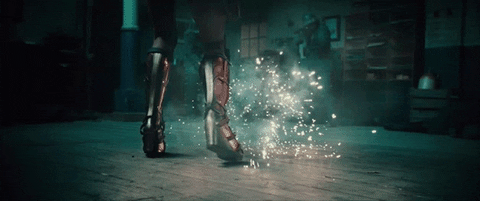 A lean Gadot had to pack 17 pounds to transform into the Amazonian Warrior princess. She built up muscle through a series of training that include kungfu, kick-boxing Brazilian jiu-jitsu and sword fighting.

9. Leading Lady
Stepping into the coveted snug boots of Wonder Woman is an incredible achievement. Before Gadot was cast, actresses who were considered include Kate Beckinsale, Sandra Bullock, Jessica Biel, Eva Green, Christina Hendricks and Kristen Stewart. What made it more amazing is that this is only Gadot's fourth movie in Tinselton, after the Fast & Furious franchise and bit parts in Date Night and Knight and Day. Director Zack Snyder has nothing but praise for her. "Wonder Woman is arguably one of the most powerful female characters of all time and a fan favorite in the DC Universe. Not only is Gal an amazing actress, but she also has that magical quality that makes her perfect for the role. We look forward to audiences discovering Gal in the first feature film incarnation of this beloved character."