2020 was an unconventional year by any measure. As such, one could expect an unconventional Oscars ceremony. Even before the awards show took place, many changes to the way things had been done were already instated.
As such, there was a bit of an "unsurprising surprise" quality to the 93rd Academy Awards, which took place on 25th April 2021 at the Union Station in Los Angeles and other satellite locations around the world.
The winners and nominees heralded a year of superlatives and firsts, with the Oscars reminding cinephiles how much we've missed going to the movies in a year in which that was rare or all but impossible, depending on one's location.
We look at 10 ways in which the Oscars made history this year.
#1: First Asian woman to win Best Director – Chloé Zhao for Nomadland
Chinese-born director Chloé Zhao became only the second woman to win the Best Director Oscar, and the first Asian woman to do so. Nomadland, about a middle-aged woman who embarks on a van-dwelling existence across the United States after losing her job and most of her possessions in the Great Recession, also won Best Picture, and Best Actress for Frances McDormand.
In her speech, Zhao recalled learning and reciting classical Chinese poems with her father. "There's one that I remember so dearly: It's called The Three Character Classic and the first phrase goes, 'People at birth are inherently good.' Those six [words] had such a great impact on me when I was a kid. I still truly believe them today — even though sometimes it might seem like the opposite is true," Zhao said. The director's next film is the space opera superhero movie The Eternals, part of Phase Four of the Marvel Cinematic Universe.
#2: First South Korean to win Best Actress – Youn Yuh-Jung for Minari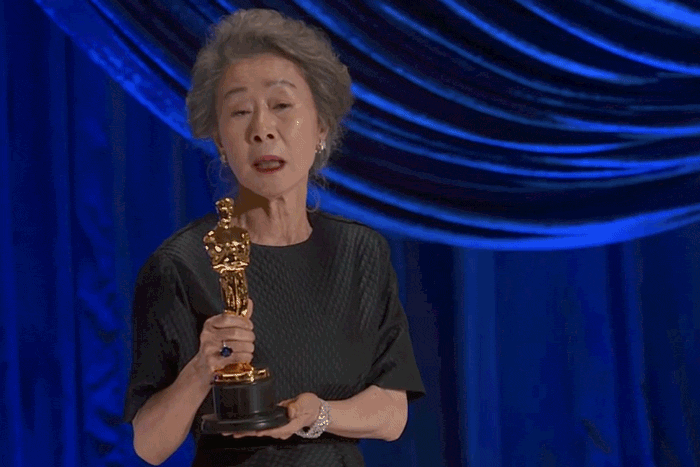 Youn Yuh-Jung, a veteran of South Korean film and television, won over international viewers with her lively portrayal of a grandmother joining her family who had emigrated from South Korea to the US in the 80s. The semi-autobiographical film by Lee Isaac Chung was also nominated in five other categories, but only won for this one.
Youn could not contain her excitement at meeting presenter Brad Pitt, exclaiming "Finally! Nice to meet you! Where were you when we were filming in person? I'm very honoured to meet you." She graciously acknowledged the other nominees, including Glenn Close, whom Youn could not believe she had beaten to the award. "It's just I have a little bit of luck, I think — maybe I'm luckier than you. Also, maybe it's American hospitality for the Korean actor. I'm not sure," Youn quipped. She also thanked her sons who "made [her] go out and work."
#3: Oldest Best Actor winner – Anthony Hopkins for The Father
At age 83, Sir Anthony Hopkins became the oldest Best Actor Oscar winner in history. The record had been held by the late Christopher Plummer, who won for Beginners in 2011 at age 82. The favourite to win Best Actor this year had been the late Chadwick Boseman, for Ma Rainey's Black Bottom. Instead, the Academy gave the award to Hopkins for his portrayal of an elderly man stricken with Alzheimer's disease in Florian Zeller's The Father, which also won Best Adapted Screenplay. Hopkins, who had previously won the Best Actor prize in 1994 for Silence of the Lambs, was not present to receive the award this year. He was in his home country of Wales, as it was decided that at 83, it would be too great of a risk for him to travel to the satellite location at the British Film Institute (BFI) Southbank in London to accept the award.
#4: Second-youngest Best Original Song winner – H.E.R. for Fight for You (Judas and the Black Messiah)
23-year-old Gabriella Sarmiento Wilson, known professionally as H.E.R., became the second-youngest winner for Best Original Song, with "Fight for You" from Judas and the Black Messiah. H.E.R. co-wrote the music with D'Mile and lyrics with Tiara Thomas. "Musicians and filmmakers, I believe we have the opportunity to tell the truth and write…history the way it was," H.E.R. said during her acceptance speech. "Knowledge is power, music is power and as long as I'm standing, I'm going to fight for us." Also winning the Best Original Song score at 23 was Sam Smith, for co-writing "Writing's on the Wall" from Spectre in 2016. The youngest Best Original Song winner was Markéta Irglová, who won for co-writing "Falling Slowly" from Once in 2008 just before she turned 20.
#5: (Possibly the) first reference to one's parents having sex in an acceptance speech – Daniel Kaluuya for Judas and the Black Messiah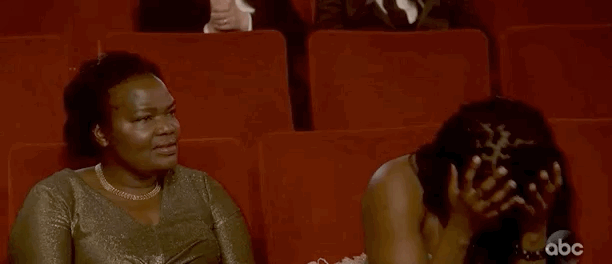 One of the most memorable moments of the night was Daniel Kaluuya's acceptance speech. The speech started normally enough with Kaluuya thanking his mother Damalie Namusoke, who was in attendance with his sister (whose name is not publicly known) in London as Kaluuya accepted the award in Los Angeles. "I'd like to thank my mom. Thank you so much for pouring into me. You gave me everything. You gave me your factory settings so I can stand at my fullest height." Kaluuya continued, acknowledging important historical figures in the Civil Rights movement including Fred Hampton, whom he portrayed in Judas and the Black Messiah. "We're enjoying ourselves tonight because we've got to celebrate. We've got to celebrate life, man. We're breathing! We're walking! It's incredible. It's incredible! My mom met my dad; they had sex — it's amazing! I'm here! I'm so happy to be alive, so I want to celebrate that tonight." The shocked expression that Kaluuya's mother had on her face, as his sister buried her face in her hands, was priceless.
#6: The latest Oscars in history
The Oscars are traditionally held in late February, but that was not the case this year due to the impact of Covid-19 on the film industry. For a while, it seemed like the Oscars might be indefinitely postponed or even cancelled altogether, before the ceremony was moved from February to April. The eligibility period for films to be submitted for consideration was extended accordingly, with the Academy modifying its usual rules about cinema exhibition being a strict criterion for films to be nominated.
#7: The first Oscars held in a train station
It seems like an unlikely candidate to host the biggest film awards ceremony of the year, but the historic Union Station in Los Angeles played its part well, receiving a makeover to create a more intimate venue than the usual auditoriums that the Oscars has been held in. The usual orchestra was replaced with musical director Ahmir "Questlove" Thompson in a DJ booth. The production team strove to make the event as "live" as possible given current pandemic-era restrictions, to avoid the format of nominees attending from home over video conference.
"The appropriate irony is my first impressions of Union Station in its physical grandeur are from seeing it in films," the ceremony's co-producer Steven Soderbergh said at a press conference. "That was certainly part of the reason I proposed it as a possible venue for this year's show." Additional locations included BFI Southbank in London and the Dolby Cinema in Seoul, the latter being where last year's Best Director winner Bong Joon-ho, accompanied by interpreter Sharon Choi, presented this year's Best Director prize.
#8: A "spread the love" year
Awards season aficionados always know that it doesn't make for the most interesting ceremony when one film makes a clean sweep. The 93rd Academy Awards marked the first time since the 78th Academy Awards in 2006 that no single film won more than three awards. Nomadland bagged three golden men, with The Father, Judas and the Black Messiah, Ma Rainey's Black Bottom, Mank, Soul and Sound of Metal netting two Oscars each.
#9: Show structure shake-up
Those who tune in to the Oscars every year have a sense of what to expect when it comes to the general structure of the show. The Oscars had no host for the third year in a row. The Best Director prize was given out surprisingly early in the show. There were no performances of the songs nominated for Best Original Song; instead, those were pre-recorded and broadcast during the pre-show. There was a marked lack of clips from the nominated films, which left some viewers feeling lost.
Most jarringly, the Best Picture prize was awarded before the Best Actress and Best Actor awards were given out, when Best Picture has traditionally closed out the show as the biggest prize. It is speculated that this was to lead up to a tribute to the late Boseman, who was expected to win the Best Actor prize but lost to Hopkins as mentioned above. This resulted in an anti-climactic conclusion to the night.
However, the upside of the streamlined ceremony, stripped of most bells and whistles, was that more time was given for the winners to make their speeches. Nobody was chased off the stage with music as was customary in previous years.
#10: History-making nominees
While they might not have won, several nominees made history. Minari's Steven Yeun was the first Asian-American nominated for Best Actor, Borat Subsequent Moviefilm's Maria Bakalova was the first Bulgarian actor nominated for any acting Oscar, and Promising Young Woman's Emerald Fennell was the first woman to be nominated for Best Director for her feature film debut. Fennell won the Best Original Screenplay prize. After several years in which much was made of the perceived lack of diversity in the acting nominees, a record nine of the 20 acting nominees were people of colour: Chadwick Boseman, Daniel Kaluuya, Leslie Odom Jr., LaKeith Stanfield, Andra Day, Riz Ahmed, Viola Davis, Steven Yeun and Youn Yuh-jung. Women snagged a record 76 nominations across all categories. This was the first year in which two women, Fennell and Zhao, were nominated in the Best Director category.