It's pretty clear that Nicolas Cage loves acting. His acting credits on IMDB stands at a staggering 103 since he starred in his first role in a TV movie called Best of Times. While he was credited as Nicolas Coppola in his first couple of roles, he dropped his famous last name (his uncle is Francis Ford Coppola) and changed it to Cage so that he can carve a career on his own merit. And he did, with an Oscar-winning turn in 1995's Leaving Las Vegas, opposite Elisabeth Shue, about a Hollywood screenwriter who lost everything due to his alcoholism, only to form a friendship with a prostitute in Las Vegas, that changed his life.
After that, Cage starred in action flicks such as Con Air (1997), Face/Off (1997), Snake Eyes (1998) and the fantasy romance City of Angels (1998).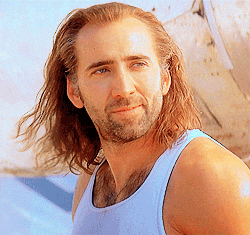 At the turn of the century, Cage has appeared in countless movies in the early 2000s but was most noted for The Wicker Man (2006) and Ghost Rider (2007). As we moved to the next decade, Cage hit it big with Kick Ass (2010), about a high schooler and big comic fan deciding to become a superhero, except that he is very much mortal, and without any superpowers. Cage plays an eccentric dad who trains his prepubescent daughter to be an ace killer.
Since then, the past decade has seen a fair share of misses from Cage. Do you remember a movie in the past ten years starring Nicolas Cage that is a hit? Let's break his movies down.
A Possible Alternative Career?
From Kick-Ass to Grand isle (2019) Cage has made an impressive 40 movies in the last 10 years. Out of that, it's quite clear there are more misses than hits. There are only 8 that shine in the Box Office, such as Kick-Ass, The Sorcerer's Apprentice (2010), Season of the Witch (2011), Ghost Rider: Spirit of the Vengeance (2011), Croods (2013), Left Behind (2014), Teen Titans Go! To the Movies (2018) and Spider-Man: Into the Spider-Verse (2018). Out of these movies, three are animated films. This may very well indicate that if live-action films do not work well for Cage, there's always a second career with animated movies waiting for him. It's also interesting to note that in the animated movies, Cage is not in the leading role, but part of an ensemble cast.
Quirky May Not Be Bankable
Out of the list of 40, there are actually 27 movies that incurred losses, with 5 of them suffering major losses, such as The Runner (2015), The Trust (2016), Mom and Dad (2017), The Humanity Bureau (2017) and Southern Fury (2017). These films made less than 5% of their budget at the Box Office. The most dismal Box Office takings belonged to Southern Fury, which made only 0.41% of its budget. In the movie, Cage stars as a weird but ruthless crime boss Eddie King who kidnaps a small-time mobster (Johnathon Schaech) whose brother (Adrian Grenier) will stop at nothing to save him.
Leading Man, Failed Box Office
Looking at these movies that fail dismally at the Box Office, they all feature Nicolas Cage in the leading role. In The Trust, he plays part of a pair of cops investigating a drug invasion and stumbles upon a mysterious vault. In The Runner, he takes on a flawed politician made to confront his dysfunctional life after his career was derailed by a sex scandal. In Mom and Dad, he stars opposite Selma Blair as parents who turn into demented undead who turn against his own children. The Humanity Bureau sees him hurtled into a dystopian future of economic recession that brought on global warming.
Not a Fan of Mainstream
If there's a common thread among these movies, it's that they are hardly high octane action thrillers that the likes of Tom Cruise and Bruce Willis tend to do. Gone are the days of Con Air and Face/Off. Instead, as Cage ages, he seems drawn to quirky, eccentric characters and non-mainstream storylines. But it doesn't seem to pay! But that also shows how Cage isn't interested in creating Box Office hits, but chooses to follow his heart instead.
His latest movie, Primal, is one such example. He plays Frank, a big-game hunter for Zoos who booked a passage on a Latin American shipping freighter filled with exotic and deadly animals from the Amazon, including a prized rare white jaguar. Onboard the same ship is also a political assassin, who is being extradited to the U.S. in secret. Chaos ensues when the assassin escapes and releases the captive animals. Will Frank be able to save the animals? This movie sees him return to action flicks, and if you miss him in intense action movies like Con Air, you'll enjoy this one. And if you don't enjoy it, that's ok, because Cage certainly seems to enjoy himself in the movie. And that's the thing with Cage. He doesn't fall into any stereotype. He can play a zombified father, a loyal lover bent on rescuing his kidnapped girlfriend, the voice of an animated older Spider-Man, or a dedicated policeman, nothing is off-limits for Nicolas Cage and that's how we like it.