It sounds like a fun game. Ed Helms, Jake Johnson, Hannibal Buress Jon Hamm, and Jeremy Renner are five fast friends who've kept in contact since high school into adulthood, bound by their love of the game Tag.
In fact, they play it annually without fail. For a month every year since 1983, each player, who's "it", has the entire month of May to tag someone new, and the new 'it', will have his turn next year to tag someone else.
As these friends turn from students into professionals, they become more and more competitive, leading to highly inventive plots to get someone else tagged. It sounds pretty far-out that the childhood game of Tag could be the thread holding a friendship together but that's exactly what happened. Except it wasn't a quintet of friends, but TEN!
It all started in 1982, where ten high school buddies played the game throughout the school year, ending it on the last day of school. At a Christmas reunion in 1989, Joe Tombari, who was the 'It' when the game concluded, wasn't going to let it go and convinced his friends to revive the game. And so, the ten friends made a pact that during every February, whoever tagged on the last day of the month would be 'It' until the game comes around on 1 February the next year. One of the ten friends, a lawyer, even drafted a "Tag Participation Agreement" which all of them signed.

The real Tag players
Since then, the ten pals have gone to lengths to play the game, leading to some interesting situations. For instance, one friend (Chris Ammann) who lived in Boston, flew across the country to stake out at friend Mike Konesky's apartment, in the bushes just to tag his friend.
In another case, Konesky crept into buddy Brian Dennehy's home at 2am and tagged him while Dennehy was sound asleep. Other scenarios include hiding out in the trunk of a car and popping out to tag the next victim, and staking out at the cinema to tag a friend.
The game of Tag is still strong among these ten competitive friends, and their game is even more outrageous than the comedy inspired by it. If you're highly tickled by Tag, movie or the real deal, you might find these comedies equally entertaining.
Game Night (2018)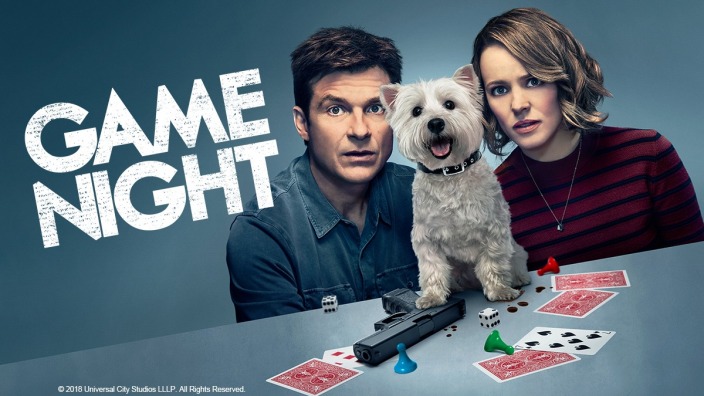 Like the name suggests, Game Night is about a bunch of friends coming together for a weekly night of games. It could be a board game, a card game or a charade. Max (Jason Bateman) and Annie (Rachel McAdams) are the hosts of these card games.
However, when Max's big brother, Brooks (Kyle Chandler), returns to town and arranges a bigger, better game night of murder mystery party with high stakes, it sends Max into a jealousy fit. The game begins and players try to outdo one another to get hold of the first clue. Then things take a dark turn when the murder mystery game turns into something way more sinister and no one is prepared to play this daring game.
Blades of Glory (2007)
This is no I, Tonya, but a tale of two rivalling figure skating champions. Will Ferrell and Jon Heder star as the world's leading men figure skaters who broke into a fight in the rink, resulting in their lifetime ban from competitions as single competitors.
However, they found a loophole in the competition rules that allow them to compete again, but only in pairs competition. Determined to get back to the game despite being at odds with each other, they have to suck it up and race against time to prepare for their comeback to the skating rink, as a pairs team, which means they have to work together. Their attempts at hiding their disdain at each other and their tenacity to beat their biggest competition, the Van Waldenberg siblings (Amy Poehler and Amy Poehler) make for comedy gold.
Daddy's Home (2015)
Will Ferrell is back, this time around, competing with Mark Wahlberg for the best dad in the world in the ultimate Dad vs. Step-Dad showdown. As an easy-going radio executive who aims to be the world's best stepdad, Brad's (Ferrell) plans are foiled when Dusty (Wahlberg), the real dad shows up to bond with his two children.
This raises the tension at home and things get awry when Brad and Dusty become increasingly competitive. Dusty is the cool biological dad whom the kids love, while Brad is the ever-present stepdad whom the kids slowly grow accustomed to. Brad and Dusty's antics at becoming the best dad ever lead to often disastrous but hilarious results.