★ Sign up as a Movie Fan for free to catch Paterson on us ★
When Adam Driver isn't hatching evil plans as Kylo Ren in the Star Wars universe, he makes time to drive a bus and write poetry. The 36-year-old actor, who has delivered impressive performances in Joel and Ethan Coen's Inside Llewyn Davis (2013) and Noah Baumbach's Marriage Story (2019), shows how he can take on blockbusters and indie flicks in Jim Jarmusch's Paterson.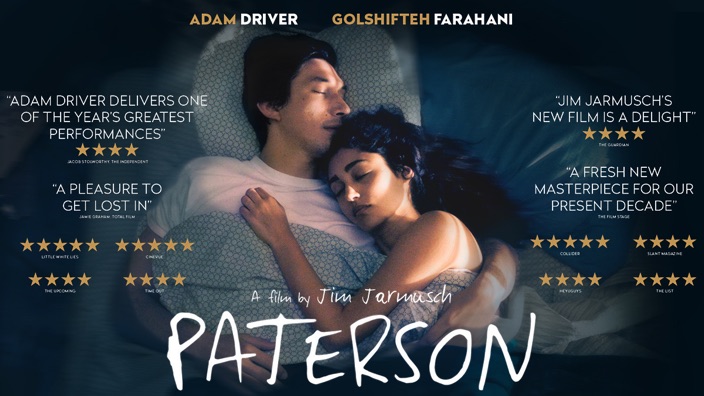 The drama, which was selected to compete for the Palme d'Or at the 2016 Cannes Film Festival and took home the Palm Dog Award, stars Driver as a bus driver and aspiring poet. His wife, played by Iranian actress Golshifteh Farahani, has dreams of her own – she wishes to be a country music singer and hopes to open a cupcake business.
How does this seemingly loose plot make up the film's 118 minutes? Such is the beauty of Jarmusch's works. The American filmmaker, who helmed the beautiful and atmospheric Only Lovers Left Alive (2013), is known to direct minimalist movies which take their time to develop the characters and stories. If you are someone who likes to experience life pass by at an unhurried pace, you will appreciate Jarmusch's filmmaking style.
In Paterson, you follow Driver's titular character over a one-week period as he goes about his life. He wakes up, drives his bus and listens to passengers converse. After work, he walks his dog, drinks beer at a bar and listens to customers converse. He also finds time to write poems, a pastime he clearly enjoys. Just as Paterson's wife convinces him to publish the poems, the notebook is destroyed by the dog.
Let's see – what else happens in the film? Paterson meets a Japanese man who has a long talk with him about poetry. If you are familiar with William Carlos Williams, a poet who is known for penning a book-length poem entitled Paterson, this scene will make a lot of sense.
Paterson is definitely not your usual movie. It takes its time to unfold, and makes you appreciate the quiet beauty that is ever-present around us. Throughout the two hours, you will focus on the dialogue and pay attention to the details of every frame. When was the last time you actually concentrated from beginning to end in a film?
Driver is understatedly moving in the film. He portrays a character you probably know at some stage in your life: someone who appreciates the finer things in life amidst the mundane happenings. It is also highly possible that you are someone like Paterson, an urbanite who leads a routine life but makes an effort to occasionally indulge in your passion.
As expected, the film ends on a contemplative note. No matter how much you take away with when the end credits roll, Jarmusch would have made you appreciate the fact that life is like poetry.
If you're still reading the article at this juncture, you may want to spend a few more minutes finding out more about Jarmusch, who is often considered as one of modern cinema's rare and precious filmmakers.
This guy has great style
Jarmusch, whose mother was once a film critic for the Akron Beacon Journal, is known to make films which focus a lot on mood and character development. That said, his films do not have a clear narrative structure and audiences who have grown used to traditional storytelling approaches will find it difficult to follow these slow-moving works. The films are often brooding, and are not ashamed to feature long, silent and still shots.
Film festivals love this guy
A regular at international film festivals, Jarmusch was recognised at the Cannes Film Festival in 1984 with the prestigious Caméra d'Or for Stranger than Paradise, a film about a bored New Yorker who goes on a road trip with his sidekick. More than 20 years later, Jarmusch impressed the jury of the 2005 Cannes Film Festival and won the Grand Prix for Broken Flowers (Bill Murray), a film about an old man who travels across the country to meet his former lovers.
Celebrities love working with this guy
Some of showbiz's biggest names have worked with Jarmusch. They include jazz musician John Lurie and former Sonic Youth drummer Richard Edson (1984's Stranger Than Paradise), Winona Ryder and Gena Rowlands (1991's Night on Earth), Johnny Depp and Godfather of Punk Iggy Pop (1995's Dead Man), Forest Whitaker and rapper RZA (1999's Ghost Dog: The Way of the Samurai), Bill Murray and Sharon Stone (2005's Broken Flowers), as well as Tilda Swinton and Tom Hiddleston (2013's Only Lovers Left Alive).
This guy loves music
Jarmusch may have been writing and directing for more than 30 years, but let it be known that he is also a musician. In the early 1980s, he was part of a group of musicians in Robin Crutchfield's Dark Day project. He further went on to become the keyboardist and one of two vocalists for The Del-Byzanteens and released an LP which became an underground hit. With two collaborative albums under his belt, Jarmusch is currently a member of the rock band SQÜRL with two other filmmaking professionals Carter Logan and Shane Stoneback.
And…that hair!
Putting Jarmusch and Swinton in the same photo? Nuff' said.