Gal Gadot's Wonder Woman earned a staggering USD103.1 million on its opening weekend internationally. If you've seen the movie, the 300-esque magnificently shot and elegantly executed beach battle with the German soldiers would have left a deep impression. Made up of supermodels, Olympians and martial artists, let's meet some of these amazing women that brought that themyscira sequence to life.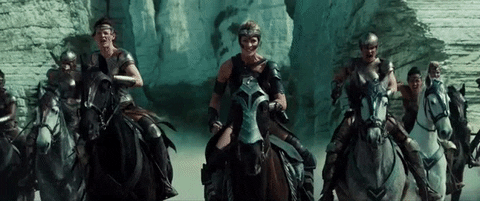 Patty Jenkins (Director)
Almost four decades ago, Jenkins was an impressionable seven-year old when she first saw Christopher Reeve take to the skies in 1978's Superman. That was the definitive moment that changed her life; Jenkins was hooked onto superhero cinema ever since. She had never worked on a movie of this scale (she was previously best known for directing 2003's Monster where Charlize Theron won her Academy Award) and exuded grace under the immense pressure of such a big budget film. Wonder Woman, Gal Gadot herself gave Jenkins much praise for her passion and commitment. "Patty has this amazing ability to pay attention to the smallest details at the same time, still not forgetting about the bigger picture and the broader message. Working with her is working with someone who doesn't give up, that doesn't get exhausted at any time."
Brooke Ence (Penthiselea)
Before she donned her Amazonian armour and rode down the beach wielding a sword, Ence was a professional dancer and a Crossfit champion. She stunned the crowd with two first-place finishes in her first Crossfit Games. On her role in Wonder Woman, she has this to say, "It couldn't have been more perfect to be a part of a film where being a powerful, strong woman is not frowned upon," she says. "It's super empowering to all ages and sexes."
Madeleine Vall (Egeria)
A professional fighter for 11 years, Swedish Vall was one of the World's top three Thaiboxers in her weight class. She is trained in Muay Thai and is the 3-time Swedish Champion, 2-time Nordic Champion and 2-time European Champion in the sport. To be approached to play an Amazon warrior seemed only natural to this real-life warrior. "When we were put together, this awesome power emerged," she says. "We were these Amazons we were there to play — just by being us. Strong, powerful, badass warriors. For real. And I believe the audience can feel that authenticity through the screen."
Jenny Pacey (Amazon Warrior)
She was once an Olympic Bobsleigher, a World Class long jumper and appeared on the Gladiators series as Enigma. Jenny Pacey embodies all things fitness related, and was the natural choice to be a tall, formidable Amazon Warrior. On prepping for her role, Pacey shared with the New York Post, "I had to bulk up, packing on muscle and reducing body fat. It took me 12 months [after shooting] to reduce the bulk on my shoulders."
Caitlin Dechelle (Gal Gadot's Stunt Double)
Dechelle was only six when she started learning martial arts and nine when she began competing. In her competitive career spanning 16 years, she'd won over 90 world titles, and holds a black belt in three martial arts styles- the Chinese Kenpo, Japanese Goju Ryu and Taekwondo. Dechelle actually auditioned for Wonder Woman on her birthday. On her experience, Dechelle was thankful, "I was beyond excited to get the part! To double such an iconic character is like a dream come true. Gal is incredibly awesome to work alongside, and our director Patty Jenkins was amazing. One of my favourite stunts in the film is a slow motion kick when Diana is in the tower with Ludendorff."
Doutzen Kroes (Venelia)
You might find her face familiar. This Dutch supermodel and former Victoria Secrets Angel started modelling when she was 18, and had since amassed a large portfolio and earned much popularity, so much so that she's gotten own wax figure in the Amsterdam branch of Madame Tussaud's Wax Museum. None of her modelling experience prepared her for the physicality of acting in Wonder Woman. "The challenge was that I had to ride with one hand (on a horse galloping along the beach) and have the sword in the other hand and kill a person at the same time."
Samantha Jo (Euboea)
A martial artist and stuntwoman, Jo represented her native Canada in international Wushu competitions, including the 2008 Olympic Games in Beijing. She then moved on to acting, where she appeared in Mortal Kombat: Legacy and Man of Steel. She found her experience on Wonder Woman meaningful, "You just have those special moments with other women," she said. "The training really was tough, so to have people that you trust and care about you and are emotional just like you are really made the journey so much more worth it."
Mayling Ng (Orana)
Ng is Singapore's connection to this Hollywood blockbuster! Born in Liverpool to a Singaporean father and an English mother, she grew up watching Bruce Lee movies and dreamt to be in a martial arts movie. She eventually became a personal fitness trainer and had been trying to break into the movie industry as a stunt performer. Wonder Woman is her biggest role so far and she has nothing but admiration for the two key women of the film. "She (Jenkins)'s all for woman empowerment and very open and giving," while Gadot "walks into a room and there's an aura."