Since his first onscreen debut, actor and producer Brad Pitt has faced a steady rise to fame. His breakout roles in the films Cutting Class (1989), and in Thelma & Louise (1991) elevated him into a casting staple in the Hollywood industry. His good looks, coupled with his easy charm and natural acting skills, has allowed him to arguably be one of the most talented personas in the film making field. In acknowledgement of Pitt's newly released movie, Bullet Train, this article will honour and cover some of Pitt's most iconic performances.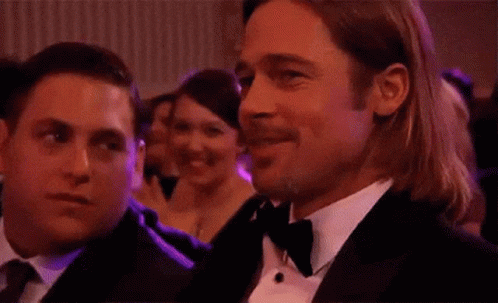 1) Se7en
Released in 1995, the gruesome and gut-churning film, Se7en, follows detective David Mills (played by Brad Pitt) and fellow detective William Somerset (played by Morgan Freeman), who plans on retiring. This harrowing tale portrays a serial killer intent on killing his victims based on the seven deadly sins. Pitt's role is a reckless and determined agent, hunting after the mysterious murderer who chases those in need of an unrevealed lesson. Pitt's dauntless courage, along with his recklessness, creates a strikingly memorable character and an indelible film. Se7en is a must-watch if you're looking for an unnerving thriller movie!
2) Ocean's Eleven
Ocean's Eleven features a fast paced heist paired with an ensemble cast of some of the most notorious male actors in the industry, during the time of the movie's release. This film centres around convict Danny Ocean (played by George Clooney) and his ragtag crew's mission to rob 3 casinos — the Bellagio, the Mirage and the MGM Grand casinos. Danny works with his reliable right-hand man, Rusty Ryan (played by Brad Pitt), who helps negotiate jobs and is the ultimate brain behind the operation. Following 3 major rules — Don't hurt anybody, don't steal from anyone who doesn't deserve it, and play the game like you've got nothing to lose, this group of scandalous men must do everything they can to make sure the mission is accomplished. Pitt's unwavering support for his best friend, coupled with the constant thrill in this movie, makes Oceans 11 a staple.
3) Fight Club
Fight Club tells the story of a depressed man (played by Edward Norton) who suffers from insomnia, a condition which interferes with his daily life. After meeting a peculiar soap salesman, Tyler Durden (played by Brad Pitt), he finds himself living in Pitt's cramped house and founding an underground club dedicated to fighting, following a twisting turn of events. Tyler, who portrays the seemingly 'perfect' man (and coincidentally is the polar opposite of our protagonist) was arguably the role which skyrocketed Pitt to stardom. Tyler's easy masculine charm and perpetually free thinking state of mind drew viewers into the plot of this cult classic.
4) The Curious Case of Benjamin Button
Pitt is a strangely endearing digital chimera as an old man who was born into a world that he can't hope to understand, but his performance softens into sweet wonder as Benjamin Button grows younger, and all of the things he's ever wanted from life open up to him with the clarity of a lucid dream. Again using his good looks as a tool, Pitt helps Benjamin grow into a man who's able to be fully present for the most defining moments of his time on Earth. More than that, his computer-enhanced youth — when combined with his natural aura — help to create a character who functions as both a lens and a screen. We see the world through his eyes, but we also can't help but look at him as this strange alien being who seems like a projection of all the things we always wanted, but were never able to hold on to or have for ourselves. After two decades of embodying id and desire, rage and charm, Pitt resolved into an immaculately bittersweet screen presence in a way that only the most beautiful of actors can (and so often do).
5) The Lost City
Released recently on March 25th, 2022, this action-packed film opens with reclusive author Loretta Sage (played by Sandra Bullock) who has "lost her edge" after the unfortunate passing of her beloved husband. Loretta struggles to write her new romance novel, while regrettingly goes on tour with the handsome cover model in her new book, named Alan (played by Channing Tatum). While on tour, Loretta instantaneously gets kidnapped by an eccentric billionaire (played by Daniel Radcliffe) who forces her to find lost treasure in an unknown island. Alan wants to prove to the world that he is more than just a pretty face, and hires a capable mercenary, Jack Trainer (played by Brad Pitt), to rescue Loretta from the island. Although Pitt played a small supporting character in this breathtaking film, he still managed to bring immense enthusiasm and kept the audience's eyes glued to the screen. His remarkable personality and willingness to succour has produced an unforgettable character.