★ Movie Treat★
Catch Dwayne Johnson in action in Skyscraper! Enter our promo code 【Skyscraper18】 to enjoy the movie for free. REDEEM NOW.
Is it us, or do you feel that Dwayne Johnson plays the same character in all his movies? We all love The Rock, and we all love his movies, but from Journey 2: The Mysterious Island (2012) to San Andreas (2015) to Rampage (2018) and his latest, Skyscraper (2018), he's practically the same guy in every movie.
Bulging muscles, some sort of professional, saviour of the day- the tri-factor that you'll see recurring in many of Johnson's movies. We feel that we're actually looking at one extended character that has evolved, here's our theory.
Journey 2: The Mysterious Island (2012)
In this movie, Johnson is Hank, a former Navy Code breaker whose skillsets come in handy when he journeys with his stepson, Sean (Josh Hutchison), to a mysterious island to hunt for Sean's grandfather (Michael Caine).
First of all, he was able to decipher the Morse code and locate the coordinates of the island. Then, when they're stuck on a sinking island, Hank was the natural leader of the group, guiding them through several difficult situations. And being the leader of the group is the perfect trait needed in…
San Andreas (2015)
In this disaster movie, Johnson plays a helicopter-rescue pilot who finds himself in high demand when his city of Los Angeles gets hit by a staggering earthquake. Estranged from his wife, it takes a disaster like this to bring them closer, especially when their daughter is stuck somewhere in another city.
Using his skills and those bulging muscles, he was able to ultimately keep his family intact and save a bunch of people in the process too. After this, he traded his pilot uniform and don some swim trunks in…
Baywatch (2017)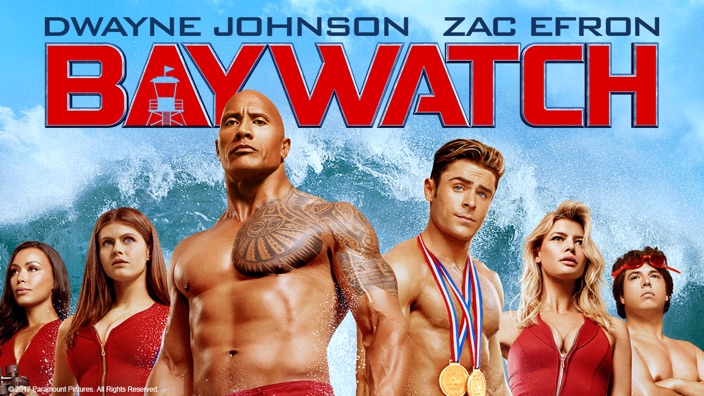 With his body glistening with seawater and sweat, Johnson is now Mike Buchannan, still serving people, but at the beach instead as a lifeguard. He takes his lifeguard duty to the next level, protecting the lives of people in his city even during off-duty hours.
A syndicate has been selling drugs on his beach and he's determined to get to the bottom of the truth, as bodies started to float in the waters off his beach. And the bad guys are no match for his rippling muscles, naturally. And those bulging muscles make an appearance in…
Jumanji: Welcome to the jungle (2017)
As Dr. Smolder Bravestone, an Indiana Jones-like archaeologist and explorer, Johnson is the game avatar of a nerdy teenage boy named Spencer and (of course) the leader of the team. A sequel to the 1995 Jumanji, starring the late Robin Williams, this movie brings our flour players into a video game, where they're stuck in a jungle and must return a stone to its original place in order to end the game and resume their real selves. Dr Bravestone, like the name implies, is brave, and strong, and practically just like Johnson, and his other movie characters. He leads the team, although a bit hesitantly, through the game and half the time, his brute strength is relied upon to get them to places. After his sojourn in the jungle, he remains pretty much connected with nature in…
Rampage (2018)
Johnson takes on the role of gorilla protector Davis Okoye in this movie based on the video game of the same name. As a primatologist, he's more comfortable dealing with animals than humans. His beloved gorilla, George, was accidentally exposed to a pathogen that made him shoot up to many times his size. Davis teams up with the inventor of the pathogen Dr. Kate Caldwell (Naomie Harris) to stop the destruction of Chicago city by George and two other animals infected with the pathogen. The pair had to negotiate with some tough army guys to get out of being detained. And it's no sweat for Davis, in fact, there was one scene where he had his biceps wrapped around a soldier with him telling said soldier, "don't fight it, it's a big arm". Once he is off duty from saving a city almost wreaked by giant animals, he's off to save his family in…
Skyscraper (2018)
This time, Johnson is Will Sawyer, U.S. an ex-Marine war veteran and retired FBI Hostage Rescue Team leader. In one of his missions, his left leg was blown up in an explosion and he retired. Now he assesses security for skyscrapers and is married with children. Much like in San Andreas, he finds himself having to save his family, not from an earthquake in California, but from a towering inferno in Hong Kong. While handling a security project for the tallest building in the world, he was betrayed and framed for setting said building on fire, with his family still inside!
Even as an amputee, Will possesses great strength. Don't forget, he still has those bulging muscles. Once again, he's the hero we all know and love, and he commits a heroic act that we all love to watch.
Muscles. Professional skills. Hero. That's Dwayne Johnson in every movie.
★ Movie Treat★
Catch Dwayne Johnson in action in Skyscraper! Enter our promo code 【Skyscraper18】 to enjoy the movie for free. REDEEM NOW.
Note: The code is valid for new members who registered in the last 20 days, and must be redeemed 10 days within registration. Click Watch Now on Skyscraper to redeem the promo code at checkout point. The code is valid from now till 21st October 2018.