For her directorial debut, Greta Gerwig sure made a splash, big enough to win a Golden Globe for Best Motion Picture (for Musical or Comedy) and rub noses with other famous directors at the Oscars, with the film nominated for Best Picture and Best Director.
In Lady Bird, Christine "Lady Bird" McPherson (Saoirse Ronan) is a strong-willed teenager hell-bent on getting her way. Unfortunately for her, her mother (Laurie Metcalf) is equally stubborn and determined not to let "Lady Bird" do as she pleases. As a nurse, she works long hours to keep the family afloat when her husband (Tracy Letts) was let go of his job. The basis of Lady Bird's appeal lies in how turbulent yet relatable the bond between a mother and her teenage daughter is. The movie examines the relationship between Lady Bird and her mother, and looks at the relationships that shape and define us. Gerwig has shared that she sought inspiration for the movie from her own teenage years in Sacramento, California. If you love Lady Bird, you'd most likely like these movies too.
If you can identify with movies focusing on troubled Mother-Daughter relationships, you'd like…
Girl In Progress. This is a classic story of a disastrous mother-daughter relationship. Eva Mendes plays an irresponsible mother to a teenage daughter, Ansiedad, who's had enough of her selfish ways. It doesn't help that Grace (Mendes' character) is a single mother and is carrying on an affair with a married doctor. Desperate to grow up and get out of Grace's life, Ansiedad decides to transform herself into an adult, with help from coming-of-age novels, leading to unfortunate results. While Girl In Progress doesn't feature a controlling mum like in Lady Bird, the rifts between mother and daughter are on full display here, and any one of us who's had countless arguments with our mothers can definitely relate to this.
If you like the sensitivity brought on by female directors, you'd like…
I Am Sam (2001). If you've not cried buckets when you watch I Am Sam, you must have a steel heart. Written and directed by Jessie Nelson who also brought us Stepmom (1998) and Corrina, Corrina (1994), I Am Sam is a tearjerker, with an Oscar-nominated performance by Sean Penn. Penn stars as a mentally handicapped man who finds himself a single father to an adorable daughter, whom he must fight to keep custody of. Nelson knows just the scenes that pull at our heartstrings, using the simple-minded behaviour of Sam (Penn) to teach us about the values of love and family. The storyline may revolve around a family in less than ideal circumstances, but the lessons it teaches, much like Lady Bird, is relevant to all of us.
If you like Saoirse Ronan, then you might like…
How I Live Now (2013). Based on the Pulitzer-winning novel of the same name, the movie zeroes in on the life of a lonely 15-year old teenager Daisy (Saoirse Ronan), who travels alone to England to stay with her relatives, and falls for her handsome cousin Eddie, played by George MacKay. However, their burgeoning relationship never takes off as war broke out, and they're torn apart, being taken to different survival camps. Daisy is determined to get back to Eddie, despite numerous obstacles in her way. Saoirse Ronan leads a strong performance as Daisy as we see her transit from a self-absorbed teenager into a more sympathetic character.
If you like coming-of-age dramas, you'd absolutely love…
The Perks of Being a Wallflower (2010). Hermoine, The Flash and Percy Jackson come together in this enjoyable coming-of-age drama that actually touches on serious topics like abuse, mental illness and teenage suicides. The main cast of Emma Watson, Ezra Miller and Logan Lerman share obvious chemistry. Lerman plays vulnerable Charlie, who is dealing with being abused by his aunt when he was young. A freshman in school, he's taken under the wings of two seniors, who introduce him to new experiences. The Perks of Being a Wallflower is a more serious coming-of-age story told with likeable characters and great music that draws you in immediately.
If you like movies that take place in small towns, you'd like…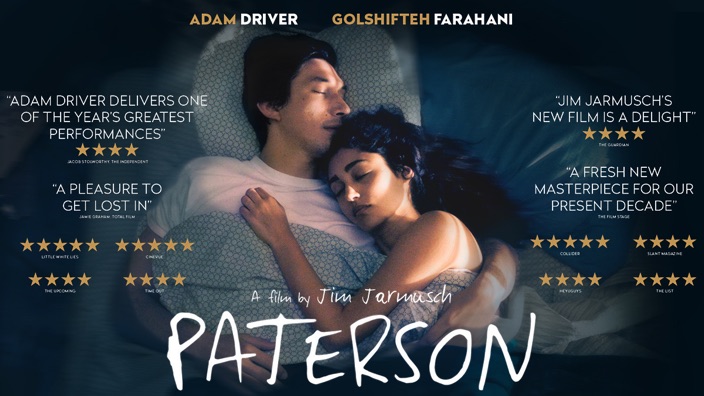 Paterson (2016). Taking a break from playing the big, bad, Kylo Ren, Adam Driver plays a bus driver living in small-town Paterson, New Jersey in this Jim Jarmusch masterpiece that's nominated for four Gotham Awards, including Best Feature. Despite holding a mundane job and a boring daily routine, Paterson is an aspiring poet and turns his imagination into beautiful words. Jarmusch excels at capturing all the tiny details of everyday life and observes the beauty in that. It's the simplicity of capturing the complexities of small-town life that captivates us with Paterson.