Kristen Stewart is one of those actresses who will likely conjure immediate positive or negative reactions from audiences. Some simply cast her aside as 'that girl from Twilight' who can't act and just looks sad all the time. In fact, there are a couple of YouTube videos that are just dedicated to how hollow some of her lines were in the vampire trilogy and make fun of her trademark lip biting and stuttering during interviews.

This anti-Kristen camp will never see her as more than her career-making role of Bella Swan. Others, however, including Personal Shopper director Olivier Assayas, deem her to be one of the best actresses of her generation.
And it's not only her film history that has left people divided. Some see her as that girl who cheated on her co-star Robert Pattinson a couple of years ago with a married director (including President Donald Trump, who famously tweeted at the time that she cheated on RPattz "like a dog" and encouraged the actor to not take her back) on the Snow White and the Huntsman set, while others see her as a young woman who is simply trying out figure out the complexities of life.
Stewart's recent coming out (having dated men and women) on Saturday Night Live surprised a lot of people given her past behaviour of keeping her private life deathly private. But in response to her bisexuality, Stewart maintains that it's not a reflection that she's confused but that she had realised that giving an insight into her life may help others as well. So, like all of us, she's evolving and changing and she's nonchalant about people not liking her, she's not here to win over everyone.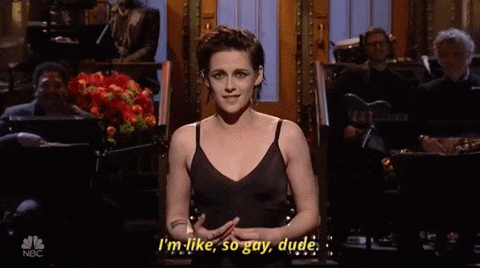 This strong-minded and carefree attitude has been reflected in her acting choices post Twilight. Putting her role in the vampire trilogy aside, Stewart has consistently pursued roles that were unconventional and fascinating.
From legendary rocker Joan Jett in The Runaways to a Guantanamo Bay soldier in Camp X-Ray, Stewart has demonstrated acting chops that rival some of the great method actors. And while her talent may be underrated by some, it's definitely been recognised by some big names. Stewart's role in Café Society, a Woody Allen film for example, is thoroughly enjoyable and pairs perfectly with Jesse Eisenberg in this elegant and old-fashioned love triangle set in 1930s Hollywood.
In terms of films, there's no denying that pre and post-Twilight, Stewart has shown that she has the talent that elevates her status beyond a has-been teen actress. In fact, she is the only American to have won the highly acclaimed French César award for her work in Assayas' Cloud of Sils Maria.
With accolades such as these and the growing praise from formidable filmmakers, it seems like Kristen Stewart as certainly shed her teen shackles and is increasingly becoming a distinctive and riveting actress to keep an eye on.