Karma's a bitch, so they say. But for others, they take matters into their own hands.
Whatever you might call it - citizen vigilantism, street justice - revenge films are always provocative pieces that breeds their own fans, for stirring the pot in another direction. Because while many mainstream movies hinge themselves on morally upright characters and scenarios, revenge films dive headfirst into emotional agendas, and leave ethics to the jury.
Just in recent memory alone, some of the most indelible titles to have become classics have a core of vengeance. From Old Boy to Kill Bill, Last House on the Left to Hard Candy, these films won over audiences for their rich and complex setups, and an unyielding direction to their cause. To naysayers, they might come across as gory and mindless bloodlust flicks for selfish motivations, but filmmakers have used this genre to display the complexity of humanity by using compelling characters and extraordinary circumstances.
From watching these seemingly violent titles, the audience reaps benefits, by investigating the less-explored gamut of the human experience - anger, hate, grief, trauma - safely through the screen. And in that way, find an outlet that can be both cathartic and revelationary. The best titles often leave the viewer with lasting unfiltered questions, and call out the hypocrisy of self-righteous behaviour (because who hasn't wanted heads to roll on social media)? It's bloody refreshing.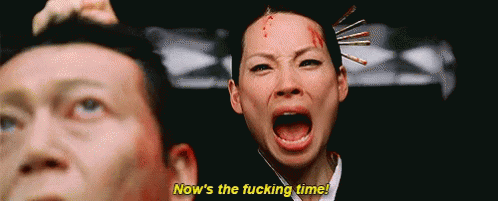 Blue Ruin and Cold in July are both films that belong to this genre. They made their debuts respectively in Cannes Film Festival and Sundance Film Festival in the same year in 2014 and both received critical acclaim for their approach.
Blue Ruin topped many critic's lists in 2014 after its release, and won a FIPRESCI Prize at Cannes. Cold in July similarly won praise from many, and achieved 85% on Rotten Tomatoes. The key similarity wasn't just about them both being shown in the Directors' Fortnight section at Cannes that same year, but more how the directors brought a new take to this genre by dropping the formula on new grounds.
While plenty of titles before have focused on single-minded characters, often coming with exceptional skill, the protagonists of Blue Ruin and Cold in July are but everyday Joes. The startling effect of this ordinary veneer over a loaded genre produces a striking contrast, as well as a familiarity that brings the messaging that much closer to home.
Blue Ruin
With straggly hair and puffy eyes, the beach bum that is Dwight Evans (Macon Blair) evokes more sympathy than fear. He shuffles about finding food in dumps, occasionally sneaks into a house for a shower, and returns to his beat-up car to read and sleep.
When a police officer brings him to the station for a talk, Dwight fears the worst, but finds out instead that it was just to inform him that a certain person has been released from jail. This obviously triggers something in Dwight, and he proceeds to find ways in which to arm and protect himself from this loose criminal. Or so we think.
Blue Ruin thrives under Blair's mousey portrayal of his character Dwight. His movements are hesitant and clumsy, his gaze drifts in and out of alertness, and he gets hurt more often than causing it. But make no mistake, Dwight is actually seeking revenge from Wade Cleland Jr. (Sandy Barnett), for a crime he did decades ago.
What makes Blue Ruin particularly riveting, is not only the performance from Blair, but the story which draws in more parties, with each member actor fully realising their roles. As this family versus family episode unravels, the way in which director Jeremy Saulnier unfolds the connections is masterful and succinct, which makes for a rewarding watch. It's surprising then that it almost became his last project.
Saulnier had only a few shorts and one feature (Murder Party) under his belt, and was struggling to make a decent living from his work. Prepared as an authentic swansong to legacy, Saulnier wanted to inject a character and story driven thriller that departed from the gore and effects-fest that was happening in that period. So he made Blue Ruin, and happily, it finally launched his career.
It's easy to see why it drew so much attention. While many vengeance titles throttle down on action, Saulnier lets his film stroll. This doesn't mean it ever gets boring, because Dwight's course of action is often fascinating and unguessable, and the movie draws tension from quick winds during the unexpected encounters. It's effective and realistic, and surprisingly lends sympathy to all of the characters.
The script itself is also incredibly smart. There's not a lot of it but when it happens, it's poignant and relevant, without the unrealistic melodrama. A friend even surmises, "no speeches". The crisp honesty here transforms a script to real conversations, for a great impact.
Cold in July
From the eastern Virginian state of Blue Ruin, we go south to Texas for Cold in July. When an outstanding citizen named Dane (Michael C. Hall) accidentally kills a home intruder, he triggers (sorry) a regretful chain of events that is anything but expected.
Based on the work of thriller writer Joe Lansdale's novel of the same name, Cold in July is hard to define because it shifts gear constantly. First, of anxiety and stress from the accidental murder, then to a tense situation of meeting with the father of the criminal, who unfortunately has done plenty of time himself. What seems poised to become a game of cat and mouse once again detours into mystery when Dane discovers a photo of the victim, and realises he wasn't the same person who he shot.
Jim Mickle navigates this film with talent, easing from theme to theme with sudden yet natural transitions. Even as the story introduces a private detective (an excellent and irrepressible Don Johnson) to trace the proceedings, the film even veers into comedic territory with much flair. And through it all, the dated Southern going-ons ground the film in reality.
But there's no mistaking the title turns several shades darker midway through. The vengeance here gets transferred after every discovery, and Mickle succeeds here thanks to the original premise and great performances.
Sam Shepard as the jail-time dad Russell anchors the film with his gravity, and with Hall adding heart and Johnson adding his snark, the trio descends into a web of true evil and justice of another kind. All we can say is, buckle up.