Stylish, check.
Gorgeous, check.
Killer moves, check.
That's right, the angels are back!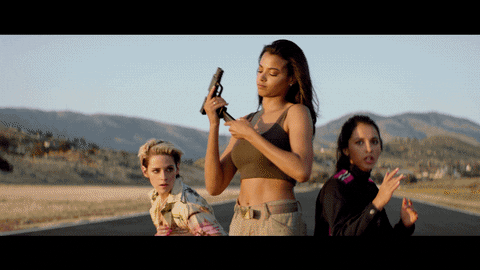 The trailer of the Charlie's Angels reboot shows three new butt-kicking angels with flashy moves and even flashier wigs. Watching this trailer naturally makes us think of the original angels' trio of Drew Barrymore, Cameron Diaz and Lucy Liu. And bet you didn't realise that those three fun-loving, crime-solving girls first graced the big screen in 2000! The sequel, Charlie's Angels: Full Throttle, was out in 2003. Yes, it's about time we bring the angels back.
Here's what you need to know about the new Charlie's Angels.
Who's Who
The most famous of the trio of new angels played by Kristen Stewart, Naomi Scott and Ella Balinska has got to be Stewart. She catapulted into international stardom in The Twilight series, and never stopped. Critics find fault with her lip-biting habits and lack of expression, but she certainly looks expressive in the trailer. Donning multiple wigs and playing multiple personas, this is a side of Stewart we've not seen before. After Twilight, she mainly appeared in European and Indie films. This is a refreshing change for the starlet.
When she was cast, the name Naomi Scott might be unfamiliar, but these days, you'd recognise her as Princess Jasmine from Aladdin. After playing the pink power ranger in 2017's Power Rangers movie, she appeared recently in the live-action movie of the animated Aladdin. And she showed us what a powerhouse she is, belting out songs with ease as Princess Jasmine. It turns out Scott not only acts and sings, she is also a songwriter. She has even given a solo jazz performance at London's Royal Festival Hall.
The fresh face of the group is Balinski. At 22 years old, the youngest of the three, the relatively new actress started acting only in 2015. As this new batch of angels handles a lot more action, Balinski's background in combat no doubt helped her clinch the role. She trained at the Academy of Performance Combat. Her most notable role to date is a stint in the popular long-running British series Midsomer Murders.
There are no Angels without Bosley, the coordinator between Charlie and his angels. In the previous movies, the role of Bosley was first played by Bill Murray, followed by the late Bernie Mac. This time, Elizabeth Banks slipped stylishly into the role. Banks was acting bit parts in TV series before she scored a notable role in 2002's Spider-Man, starring Tobey Maguire as the web-slinger. She followed that by appearing in a series of note-worthy movies, such as Catch Me If You Can (2002) Seabiscuit (2003) and Definitely, Maybe (2008). But she really made her mark as the quirky Effie Trinket in The Hunger Games series, followed by playing the flighty Gail in the Pitch Perfect series. Banks has shown her grit and tenacity not just in acting. She is also a director and producer. She wore a triple hat in Pitch Perfect 2, acting, directing and producing. In Charlie's Angels, she adds one more role to her belt- writing. So you can say this new Charlie's Angels is all Elizabeth Banks.
Hang on a minute. Apart from these four women, there's also Patrick Stewart and Djimon Hounsou. And they too, play Bosley. Turns out in this Angels movie, there are multiple Bosley characters, and Stewart and Hounsou play two of many. It's nice to see the Stewart appearing in a movie that's unrelated to Star Trek or the X-Men, don't you think?
What's Different About these Angels?
This 2019 offering is not a reboot or remake of the franchise. It's simply a continuation that will actually incorporate the original Charlie's Angels TV series as well as the two previous movies.
There's one main difference between these new Angels and their predecessors. The previous movies featured no big guns or any sort of weaponry. Instead, they pretty much rely on the Angels' special skills (remember how Diaz can lick stuff and identify what they are?) and their martial arts moves (who can forget Barrymore's King Kong Palm and Buddha on Lotus moves?).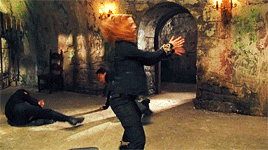 This time around, the Angels are all about disguise and guns. They are more like a blend of Charlie's Angels and James Bond, considering they even have a room filled with weapons and gadgets like mints that will explode.
In the previous Charlie's Angels, the women work in a private detective agency run by the mysterious Charlie Townsend. Now, these new Angels still work at the Townsend Agency, but it's now a global security and intelligence service with teams all over the world.