With August being our Nation's birthday month, this is the best time to be taking stock of the Singaporean films that we should be looking forward to in the second half of 2018 leading up to 2019.
Wonderful Liang Xi Mei
Compared to the previous few years, it has been a quieter than usual first half of 2018 with only five feature-length Singaporean movies getting released in cinemas – Jack Neo's Wonderful Liang Xi Mei, Raymond Tan's The Wayang Kids, Eric Khoo's Ramen Teh, Lee Thean-jeen's The Big Day and Jimami Tofu, an independent film set in Okinawa that is co-directed by and starring Singaporean acting talents Jason Chan and Christian Lee.
The second half of 2018 is shaping up to be more exciting, with a good mix of film festival award winners and commercial genre movies. Former ST Life film critic and published writer Sandi Tan's debut feature documentary Shirkers won the Best Directing Award for World Cinema Documentary category at this year's Sundance Film Festival, while Chris Yeo's A Land Imagined is just fresh off its Golden Leopard (Best Picture) win last week at the prestigious Locarno Film Festival. With the exception of these two film festival darlings, the majority of the remaining homegrown commercial movies in the pipeline are relying on the tested genres of horror and comedy, sometimes mixing them up to create refreshing sub-genres such as Yew Kwang Han's When Ghost Meets Zombie. Let's see which of these upcoming SG films would eventually go on to garner the attention and support of the local and international movie lovers.
Shirkers
2018 Sundance Film Festival – Best Directing Award for World Cinema (Documentary)
Director: Sandi Tan
Cast: Sandi Tan, Jasmine Ng, Sophia Siddique, Georges Cardona, Philip Cheah
Singapore premiere: October 2018
In 1992, teenage VHS-bootlegger Sandi Tan and her fellow film-geek pals Jasmine Ng and Sophie Siddique shot Singapore's first road movie with their enigmatic American mentor, Georges Cardona. The film was called "Shirkers." Sandi wrote the script and played the lead, S, a 16-year-old assassin collecting and then eliminating her own tribe. After shooting wrapped, Georges absconded with all of the 16mm film footage and was never heard from again for decades.
The 16mm Kodak cans are recovered 20 years later, sending Sandi, now a novelist based in Los Angeles, on a personal, singular odyssey across two continents in search of Georges' vanishing footprints—and her very own.
Sandi Tan became only the second Singaporean filmmaker to win a major award at Sundance after Kirsten Tan won the Best Screenwriting Award last year. From its auspicious Sundance debut, Shirkers went on to travel to several film and documentary festivals, collecting accolades and earning rave reviews everywhere, e.g. The Guardian gave Shirkers a glowing five-star review calling it "the paean to never-finished film is a love letter to Singapore" while The New Yorker calls it "gloriously, gleefully idiosyncratic, a blend of punk energy and local documentation".
Armed with the Sundance Best Directing Award, several great blurbs and positive critics reviews, the film is finally getting its homecoming Singapore premiere this October in a special gala screening organised by the Singapore Film Society in celebration of its 60th Anniversary. Screening and ticketing details to be announced soon at www.singaporefilmsociety.com.
A Land Imagined
71st Locarno Film Festival Golden Leopard winner
Director: Chris Yeo Siew Hua
Cast: Peter Yu, Luna Kwok, Liu Xiaoyi, Andie Chen
Release Date: Q4 2018
A Land Imagined is set in industrial Singapore, police investigator Lok (Peter Yu) must find missing migrant worker Wang (Liu XIaoyi), who is injured from a worksite accident and is afraid of repatriation. Unable to sleep, Wang frequents a dreamy cybercafé in the dead of the night, hoping to look for some form of human connection in this foreign land. Wang forms a virtual friendship with a mysterious gamer that takes a sinister turn. Lok digs deep into the trail of Wang's disappearance, leading to a land reclamation site and uncovers the truth beneath all that sand.
This is director Chris Yeo's third feature after he made the experimental film In The House of Straw (2009) and music documentary The Obs: A Singapore Story (2014). After his landmark Golden Leopard win at the 71st Locarno Film Festival, Yeo pays tribute to the masters of Taiwan New Cinema saying "I have always been inspired by the cinema that is close to the Singapore context, which is the great masters of the Taiwan New Cinema like Hsiao-Hsien Hou and Edward Yang. I think this award represents a lot. I don't know how to speak for Singaporean cinema in general, but I think for me this is the biggest deal of my life".
A Land Imagined is expected to be released in Singapore cinemas by the end of 2018.
Interview with director Chris Yeo:

Zombiepura
Director: Jacen Tan
Cast: Benjamin Heng, Alaric Tay, Joey Pink, Chen Xiuhuan
Release Date: 25 October 2018
Corporal Kayu is a lazy soldier serving his mandatory reservist in an isolated army camp. A mysterious virus breaks out and turns his campmates into rabid zombies. Trapped together, Kayu must team up with his arch-rival, the tough Sergeant Lee, to survive. Cut off from the outside world, their military training is put to the test and they must find out what it means to be real soldiers.
Filmmaker Jacen Tan, who is best known for his local comedy short films such as Zo Gang and Zo Peng, is finally bringing to life his wry comedic tale about the undead in the army camp, after developing this movie idea for 10 years with his producing pals Alaric Tay and Benjamin Heng, who are also playing the unlikely heroes of the story. Dubbed Singapore's very first Zombie comedy, and taking its inspiration from other genre-benders such as Zombieland and Shaun of the Dead, this is certainly the one local movie to watch out for scares and laughter this Halloween season!

Killer Not Stupid
Director: Jack Neo
Cast: Jay Shih, Amber An, Lin Nadou
Release Date: Q4 2018
Hornet and Mark decide to end their careers as assassins with a final mission. Along the way, they meet their old classmate Sha Bao, a drug lord's god-daughter Talia, and her friend Ira from the Philippines. Things get complicated as they are hunted by each of their own enemies. Fights and action ramp up as they begin their hilarious and adventurous trip to Taiwan!
Holding the track record as Singapore's king of the box office, producing one hit movie after another for almost two decades, veteran director Jack Neo has finally ventured beyond Singapore's shore and is making this movie with a Taiwanese leading cast and setting the story on Formosa island! Apparently, some scenes were shot in Taichung, where the old Wonderful cinema once set a record for playing Jack Neo's Money No Enough 2 for more than three years between 2009 – 2012, showing his movie to over 150,000 audiences! It waits to be seen whether the action-assassin-comedy sub-genre, which Jack Neo first attempted twenty years ago with his short film Sha Shou Yi Chu Shou, can connect with the Taiwanese and Singaporean audiences of today.
Yu Jian Huang Chong: The Movie
Director: Mark Lee
Cast: Mark Lee, Marcus Chin, Dennis Chong, Chen Biyu
Release Date: Q4 2018
Yu Jian Huang Chong: The Movie (Working title) is Singapore's first semi-fictional mockumentary movie, starring Chen Biyu, Marcus Chin, Mark Lee and Dennis Chew as exaggerated but real versions of themselves. Everyone knows the famous radio quartet for their popular morning radio programme, and their spin-off television talk show, but this time around, their real, off-the-air lives will be revealed in this big screen outing. Will these four talented comediennes and hosts continue to rule the airwaves? Local heavenly king (本土天王) Mark Lee has double duty playing one of the leads as well as directing the movie. This is only Mark's second foray into film directing seven years after his directorial debut The Ghosts Must be Crazy (2011), which was co-helmed with Boris Boo under the watch of their mentor/ producer - Jack Neo.
Hell Hole
Director: Sam Loh
Cast: Hedwig Tam, Justin Cheung Kin Seng, Belinda Yan
Release Date: 2019
After the back to back success of Lang Tong (2015) and Siew Lup (2016), director Sam Loh is taking a break from his planned trilogy of food-erotic-thrillers, and instead channels his thirst for more blood on the revenge-horror genre.
Hell Hole tells the story about a mother who makes a death pact with a spirit to save her son's life, but the son tragically meets a gruesome end. Eventually, the spirits of both mother and son reunite to take their revenge on those who have wronged them. Word has it that principal photography is already done, as Sam is famous for churning out films quickly and on a low budget, very much like Hong Kong's prolific director Herman Yau. The film is currently in post-production, waiting to be unleashed onto the local cinemas by early 2019.
When Ghost Meets Zombie
Director: Yew Kwang Han
Cast: Nathan Hartono, Ferlyn Wong, Fann Wong, Gurmit Singh, Jessica Liu, Jeremy Chan, Andie Chen, Kate Pang
Release Date: 2019
Writer-director Yew Kwang Han has attempted several different sub-genres of comedy in his career, from the erotic-comedy in Rubbers (2014), to the gender bender of When Hainan Meets Teochew (2010) and the stylized rom-com of 18 Grams of Love (2008), Han always inject his characters and script with his signature Han style of Hong Kong inspired mou-lei-tou / nonsensical comedy. For his latest movie, which he is making with the support of established production company Wa Wa Pictures and a star-studded cast, Han is mixing up the macabre elements of zombies and ghosts with teenage romance, which seems to get its inspiration from the Nicholas Hoult starred Warm Bodies (2013).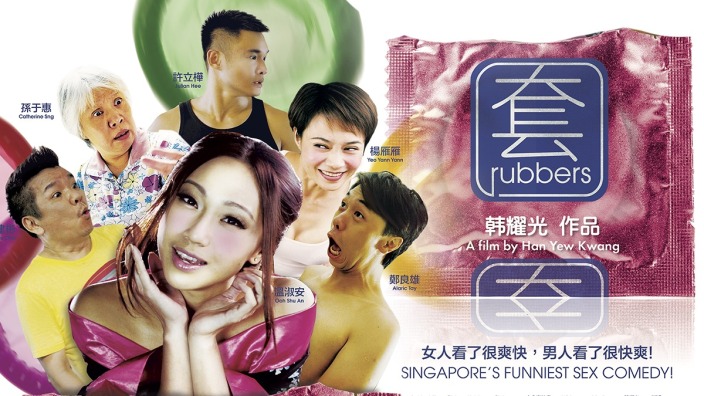 The lead zombie character Pong (played by singing sensation Nathan Hartono) is a body with no soul, lives a pathetic existence in the clutches of a wicked Taoist priest. One day, a female ghost - Zhen Zhen (Ferlyn Wong) who has a soul but no body, chanced upon Pong, possessed him and made their escape together. Zhen Zhen was a finalist of the Miss Singapore Beauty Pageant but died because of a misadventure. As her wish has been to win in the pageant, she is thus unable to get reincarnated due to her unfulfilled dream.
Zhen Zhen's encounter with Pong has provided her with fresh inspiration: she plans to enter the Manhunt Competition by co-opting the body of the zombie. After being in the company of Zhen Zhen for some time, Pong begins to see her in a different light and his heart has started beating again, and gradually they started to develop romantic feelings for each other.
Says Han, "This is a movie about the pursuit of dreams. I am someone who never gives up my dream of making movies. Through the process of making this movie, besides encouraging myself, I also hope that audiences can be inspired to have the courage to pursue their own dreams in life. If even a ghost or a zombie can do it, why can't we humans do it as well?"